Everybody familiar with the d20 system knows that it is a fantastic system for representing fantastic feats of fantasy. The Universal Decay variation focuses on both extreme realism and ultimate in-game mutability. Using the Universal Decay system even the best-trained warriors have to be careful when going sword-to-sword against their foes. You can have just as much fun developing new technologies as you can defeating armies. The rules are flexible enough to not only encompass any conceivable situation, but modular so that players only deal with complexities they feel comfortable with.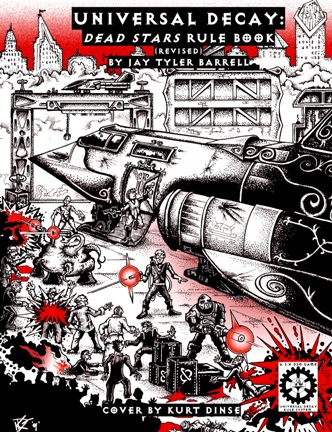 Universal Decay: Dead Stars Rulebook
2nd Edition, Revised
Core Rule Book
Science Fiction, Universal
Paperback Print, 364 pages, 8.5" x 11", perfect binding
$29.99
(plus shipping)

PDF, 364 pages
Free to supporters who contribute at least
5.00 USD
(see below).
Download the Gaming basics and Setting chapters for free!
PDF, 28 pages
DOWNLOAD
Read more about the Dead Stars setting here
Dead Stars is a science fiction horror role-playing game powered by the alternate d20 Universal Decay rules system. Pick a race - from the ever-familiar humans to the amorphous gorbrasch or sleazy helizara - strap on some personal armor and pick up a sliver rifle or get a cerebral computer implant and grab your toolkit. Or both. Then get together with your friends to face a universe of dangers, wonders, opportunities, and quite possibly a messy death. This book contains everything you will need to play or run a game in Dead Stars as well as rules for using the Universal Decay system in alternate genres, incorporating everything from swords and sorcery to vehicle energy weapons, personal armor, nanotechnology and starships.
Supporters who contribute at least
5.00 USD
to the project via PayPal
will receive a full PDF copy of the book
.
Please note the contributor reward PDF version
will be sent to you via email and may take several hours to a day to arrive. Be sure to check your spam folder.
If you do not receive your contributor rewar after 48 hours please contact
kiojan@daemoneye.net
Universal Decay: Dead Star Resources
Character sheets for standard PCs
1st revised edition -
pdf
Character sheets specially made for android PCs
1st revised edition -
pdf
Star System reference sheets
1st revised edition -
pdf
Robot minion sheets
1st revised edition -
pdf
Daemoneye Publishing © 2012-2017